Your Special Day Deserves An Equally Special Backdrop

With the glistening frost in the morning, the cold but cosy feel, and plenty of warm drinks, winter weddings at Old Thorns are truly magical.
With stunning winter decor around the hotel from the end of November, your guests will feel transported to a magical winter wonderland.
Special Offer on Winter Weddings Now On! Let us help you create the perfect day.
Book a wedding for January or February 2024 and receive an amazing 20% discount off wedding packages!

Planning for 2025? Receive 10% discount off weddings booked for January, February AND March 2025.

Contact our friendly wedding team for more detail. Ts & Cs Apply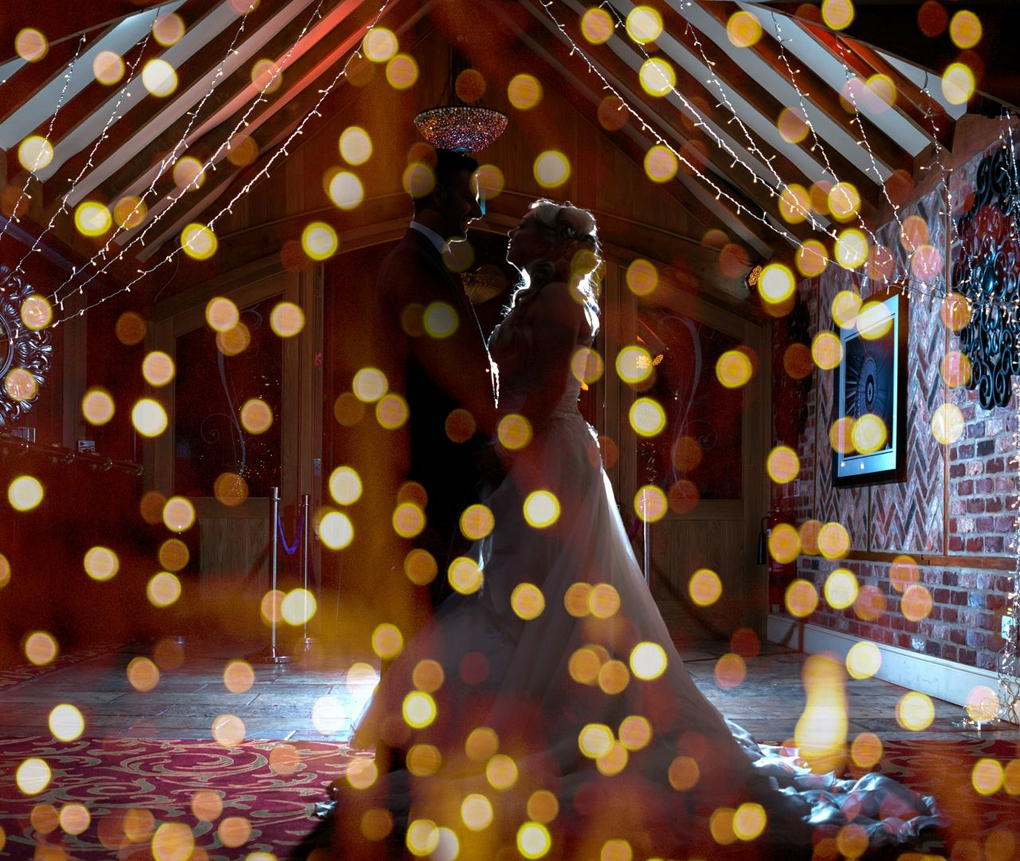 The winter wedding you've always dreamed of is waiting for you at Old Thorns.
Picture a magical day, full of heartwarming and fun moments with your new husband or wife and loved ones that you will remember forever.

Your wedding is as important to us, as it is to you, and our expert team of wedding coordinators will make your day everything you've ever wished for and more!
Why choose Old Thorns for your winter wedding? Old Thorns Hotel & Resort is a unique countryside hotel that offers a beautiful countryside backdrop and exquisite dining and service.

Our dedicated coordinators will work with you to curate a seamless, stunning and personalised day that fulfils your vision. Wedding packages can include the ceremony, three-course wedding breakfast and evening reception with a DJ and many more extras, giving you less to think about so you can enjoy your day.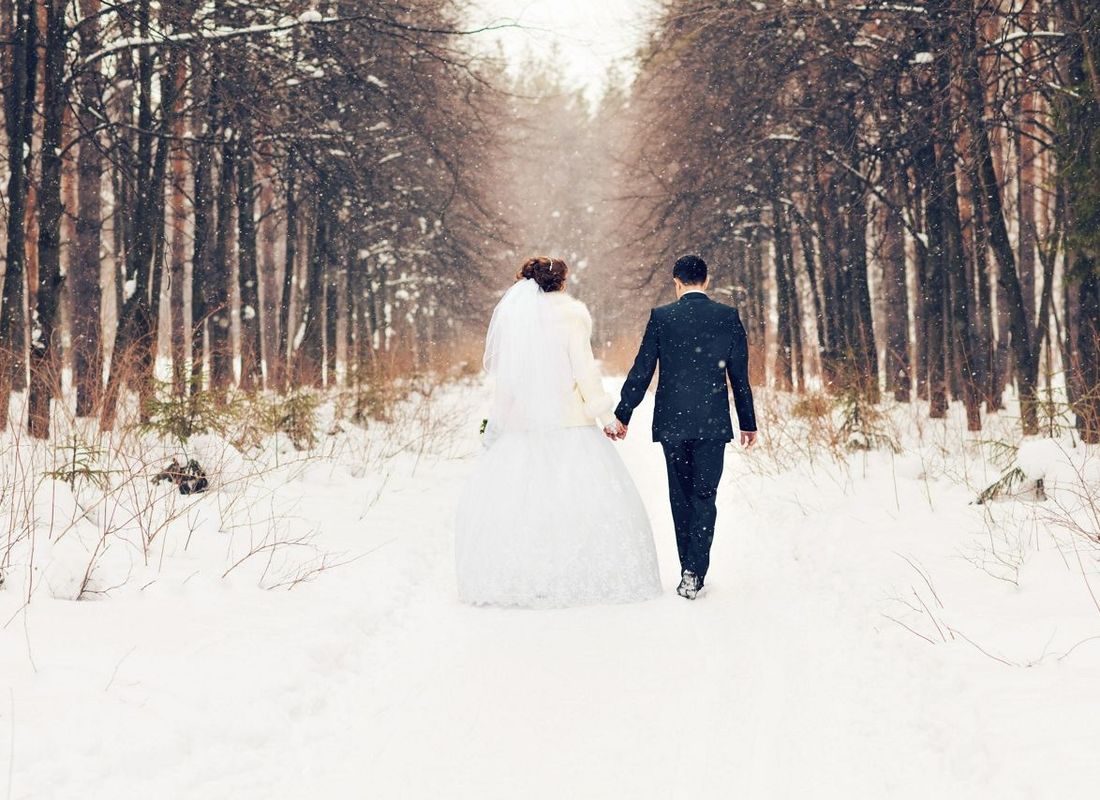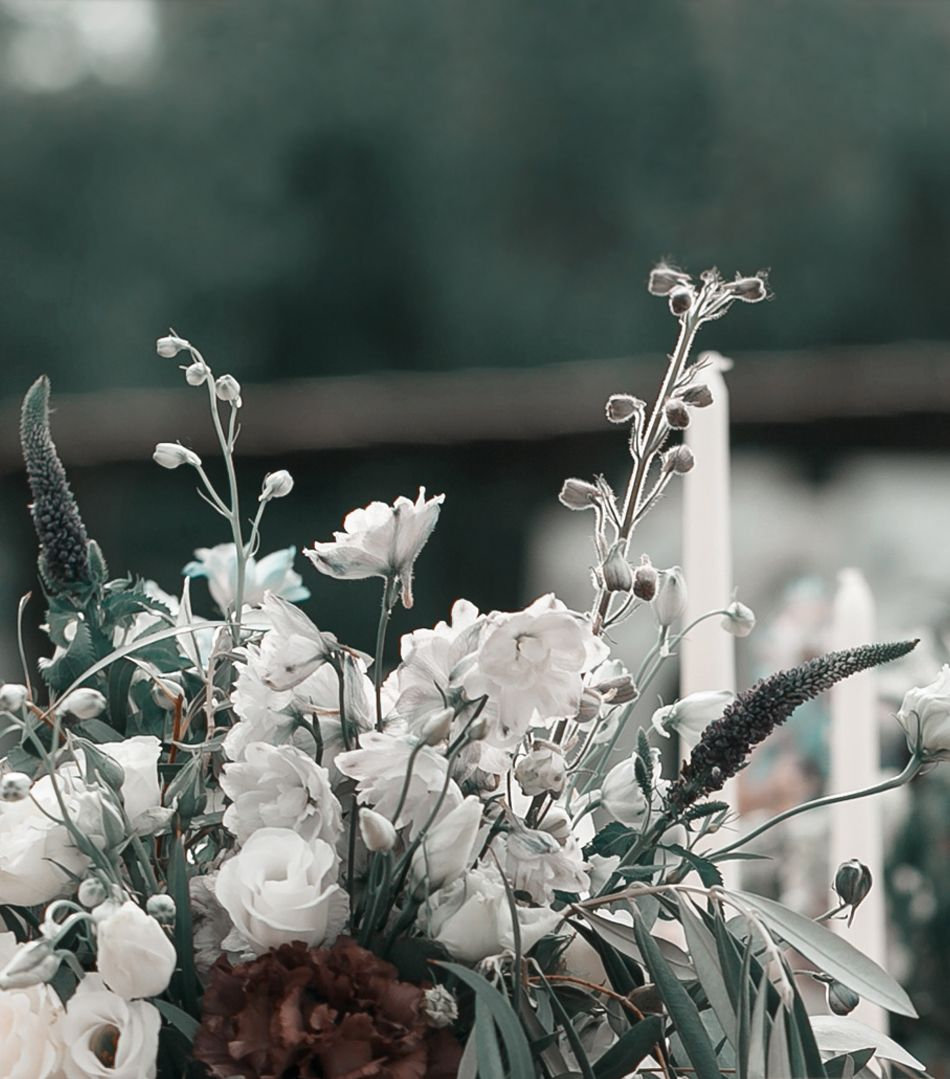 Old Thorns offers a selection of perfect venues for you to host your wedding.
Choose to walk down the aisle in our bright and airy Hampshire Suite that looks out to the frosted countryside or in our onsite chapel, a delightful hidden gem of Old Thorns.
Our Gatsby Ballroom offers an incredible backdrop with its 1920's styled chandeliers, dancefloor and private bar and Hampshire Suite offers the perfect space for intimate weddings with a dancefloor, terrace, private bar, and cosy snug area.
Drinks receptions can take place inside our stunning Atrium Champagne Bar, with plenty of space for your guests to enjoy a drink and canapes.
Our stunning Hampshire Suite is the perfect place for your ceremony, wedding breakfast and celebrations. With plenty of natural light and elegant decor with panoramic views over the golf course, our Hampshire Suite makes for a gorgeous backdrop for your special day.
Features:
• Private bar    • Snug and lounge area
• Private courtyard    • Picturesque views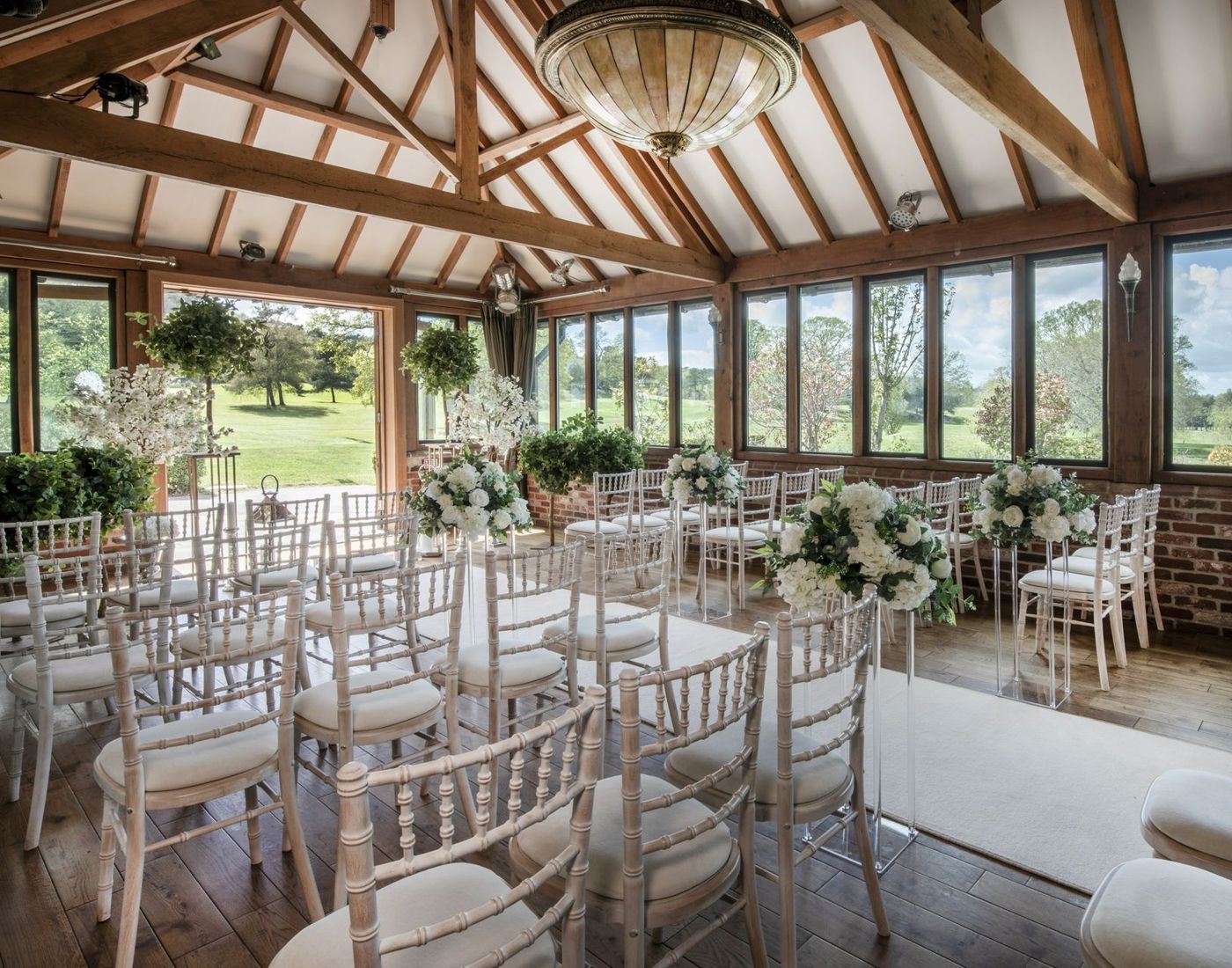 Hampshire Suite with views overlooking the South Downs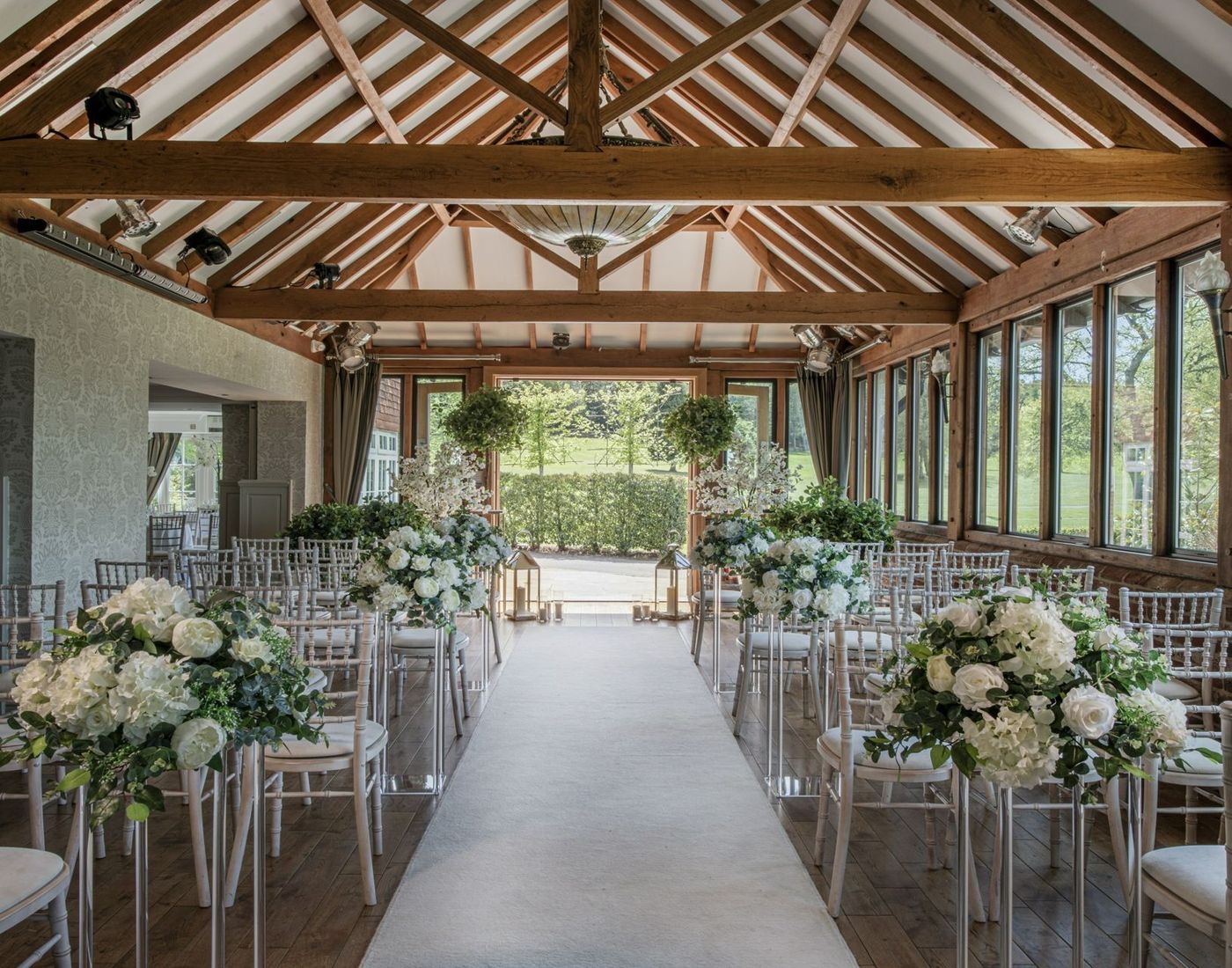 Hampshire Suite wedding spaces with open doors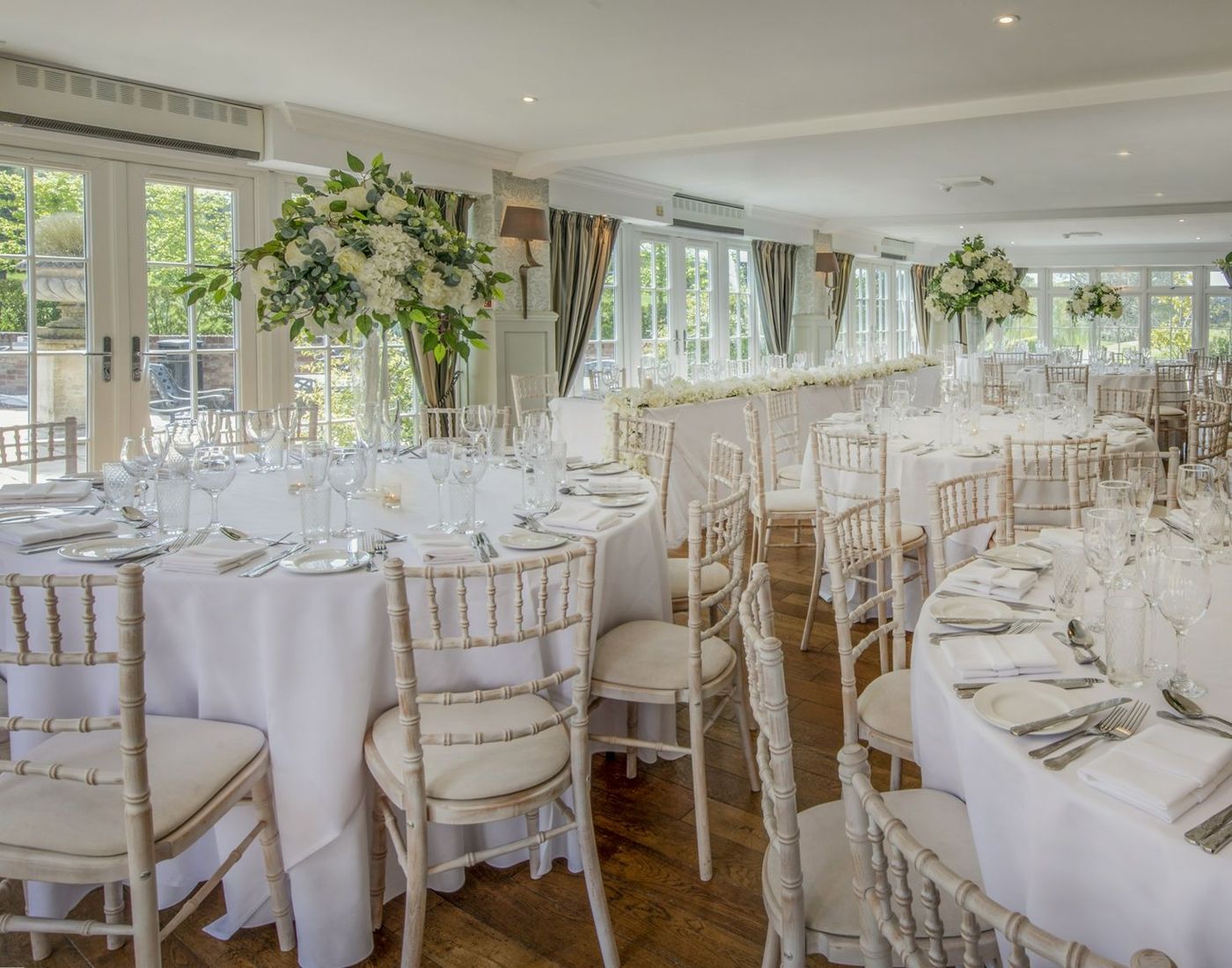 Wedding venue space set up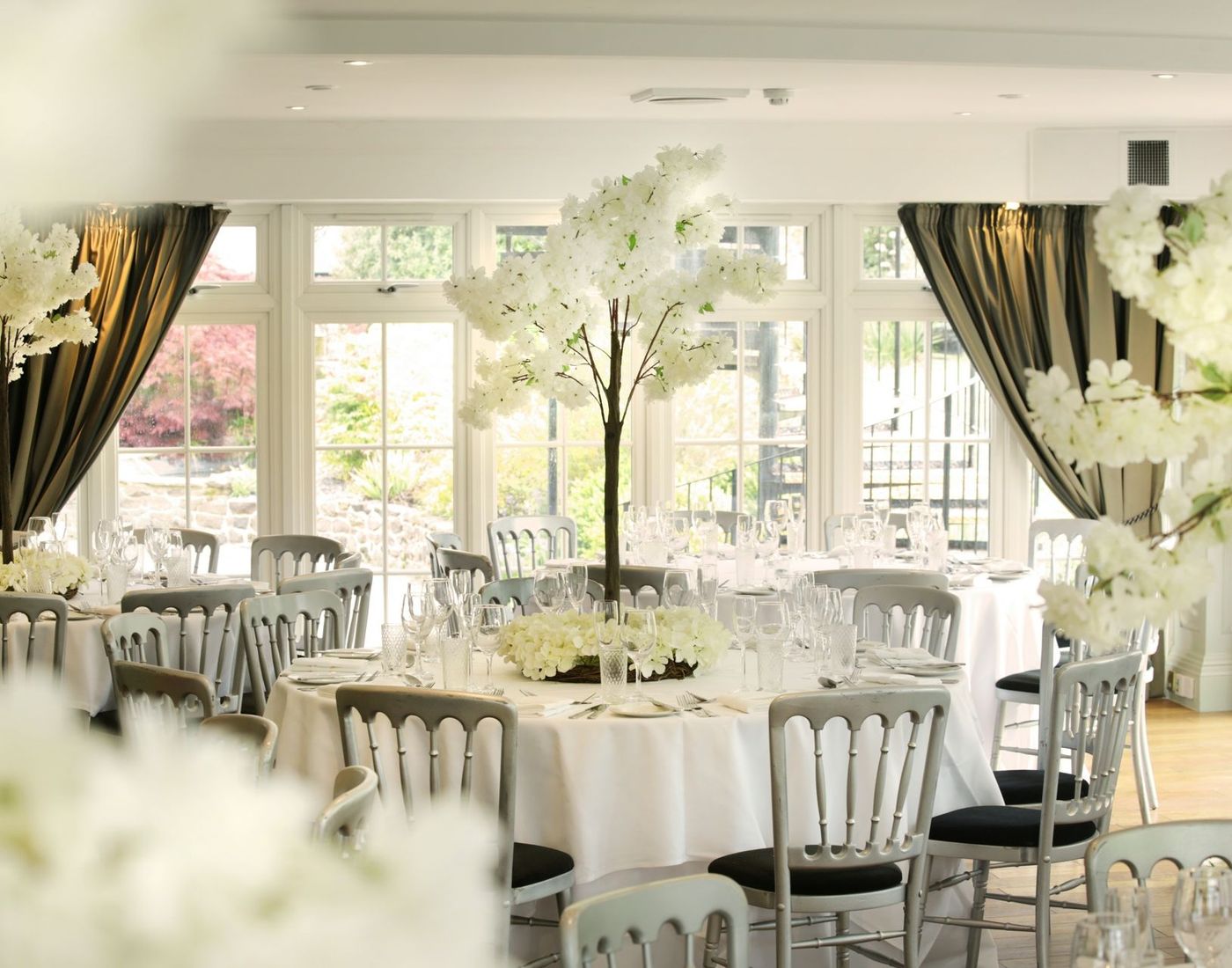 Table decorations used in Hampshire Suite at Old Thorns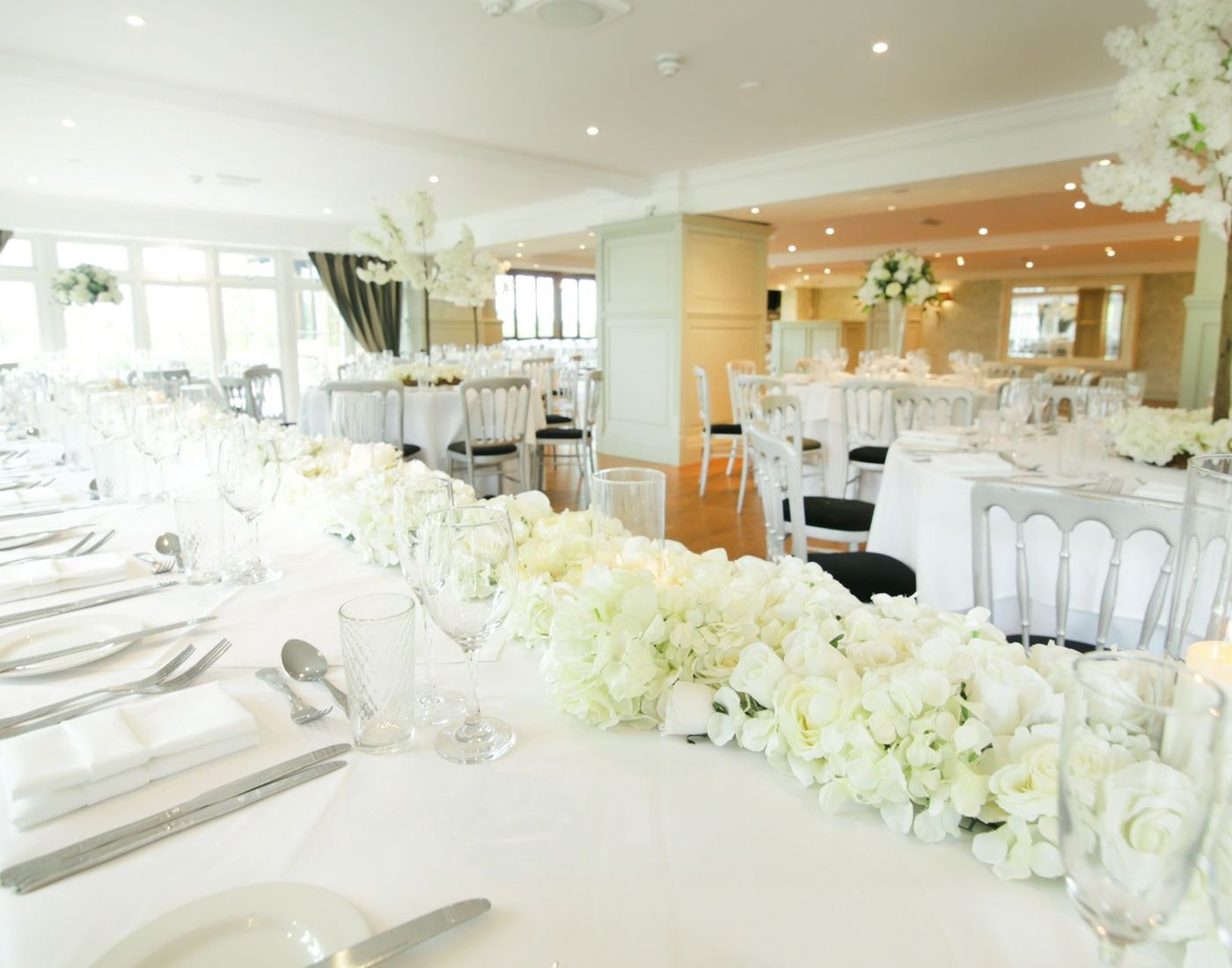 Large wedding space in Hampshire Suite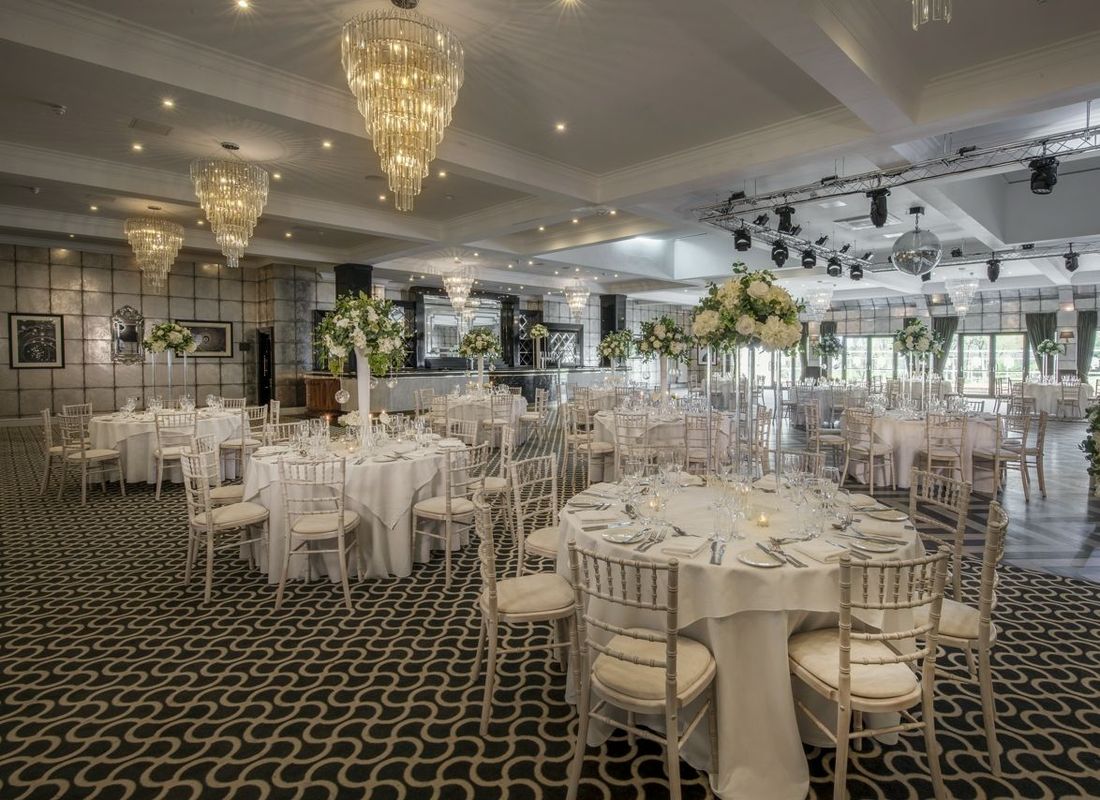 Gatsby Ballroom in hampshire hotel wedding space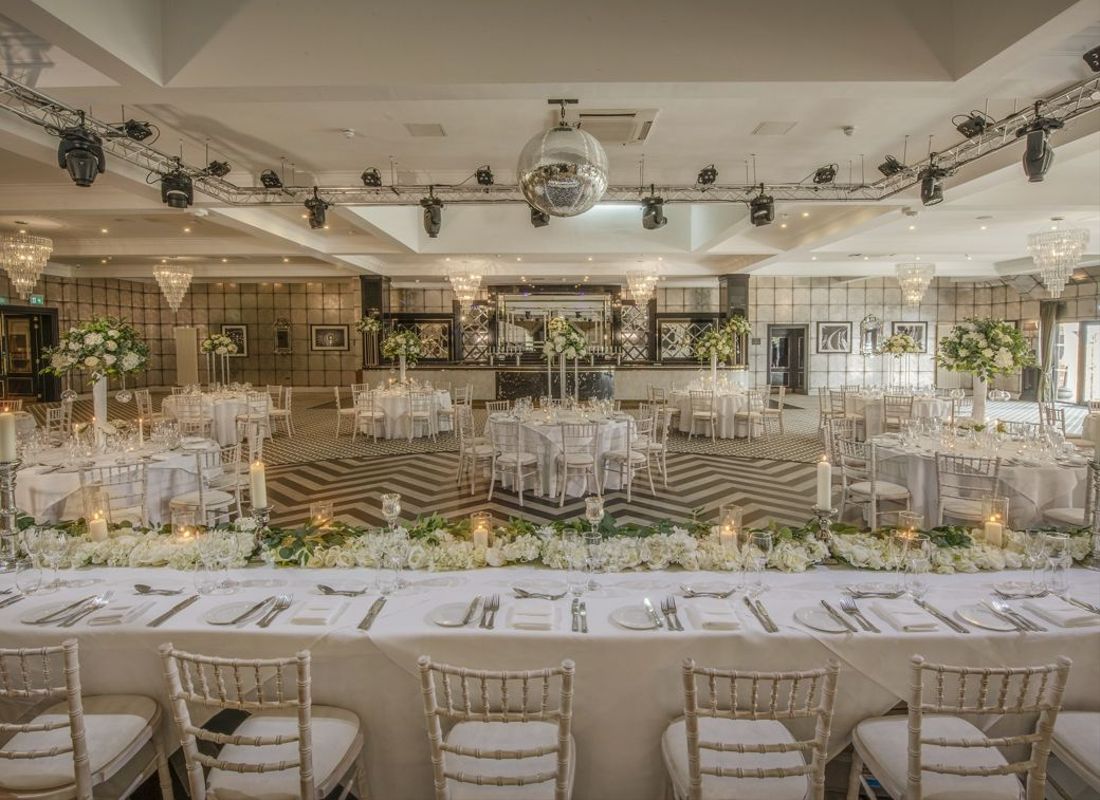 Gatsby Ballroom at Old Thorns Hotel with a bar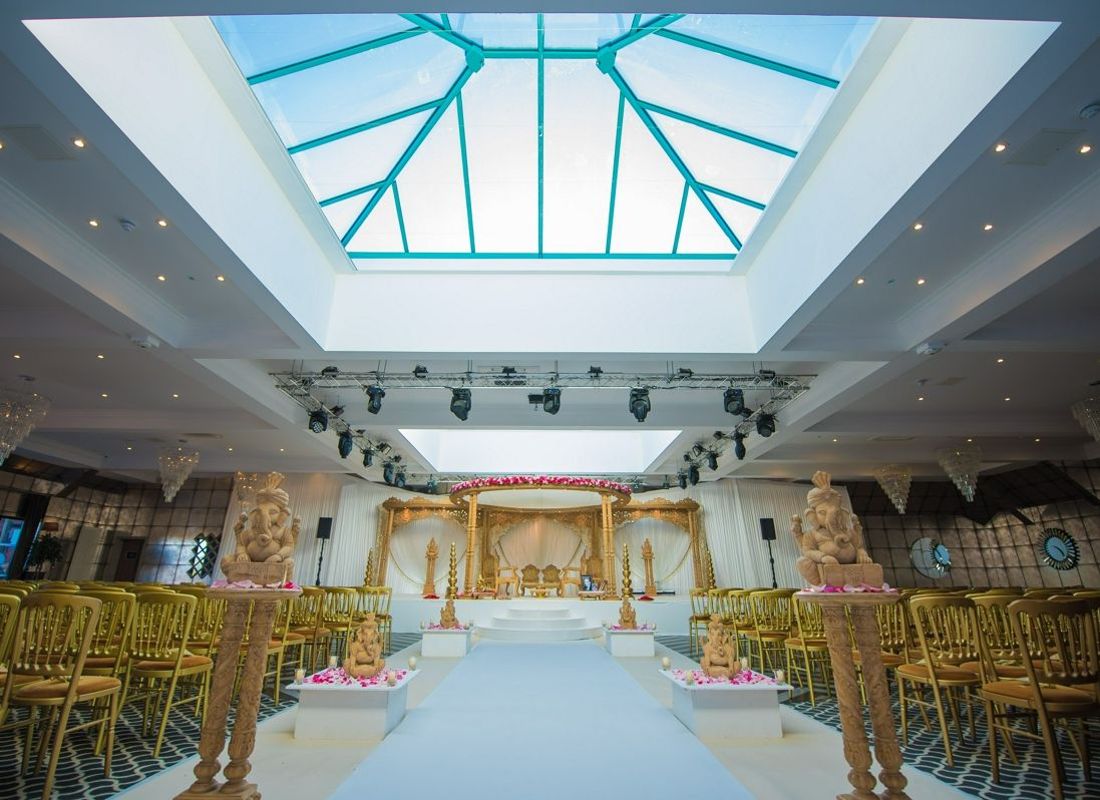 Asian wedding celebration event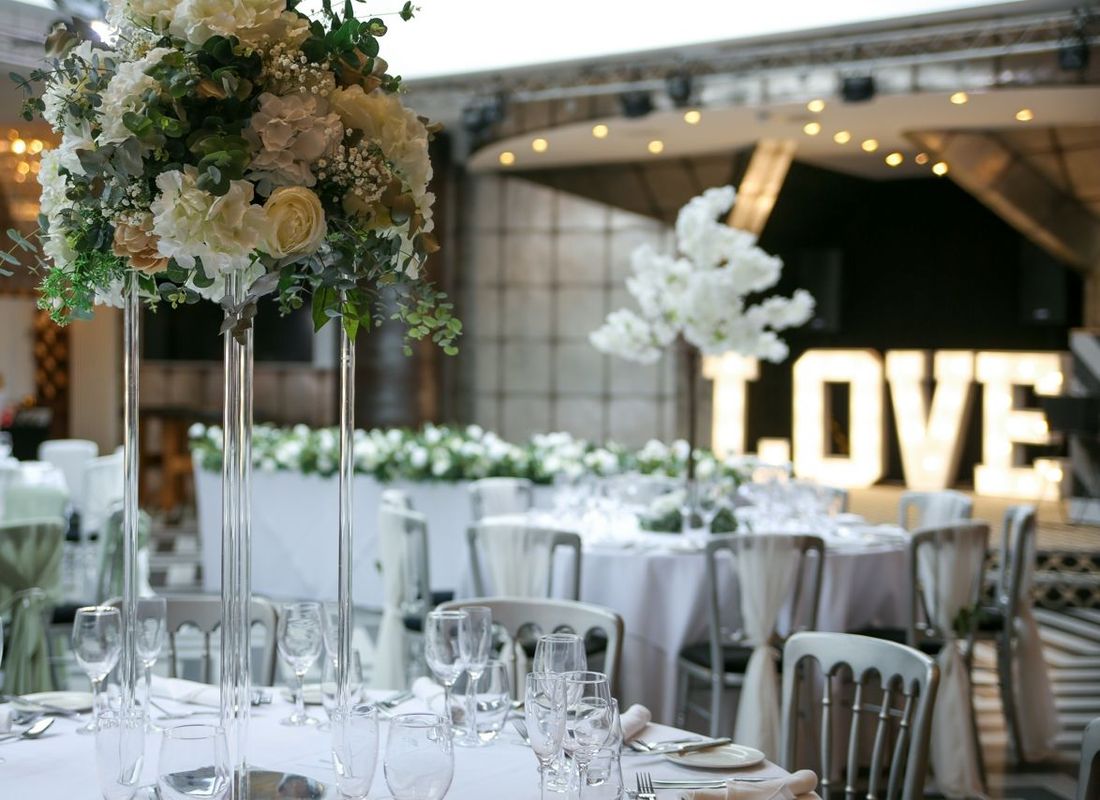 Gatsby Ballroom set up with decorated tables at Old Thorns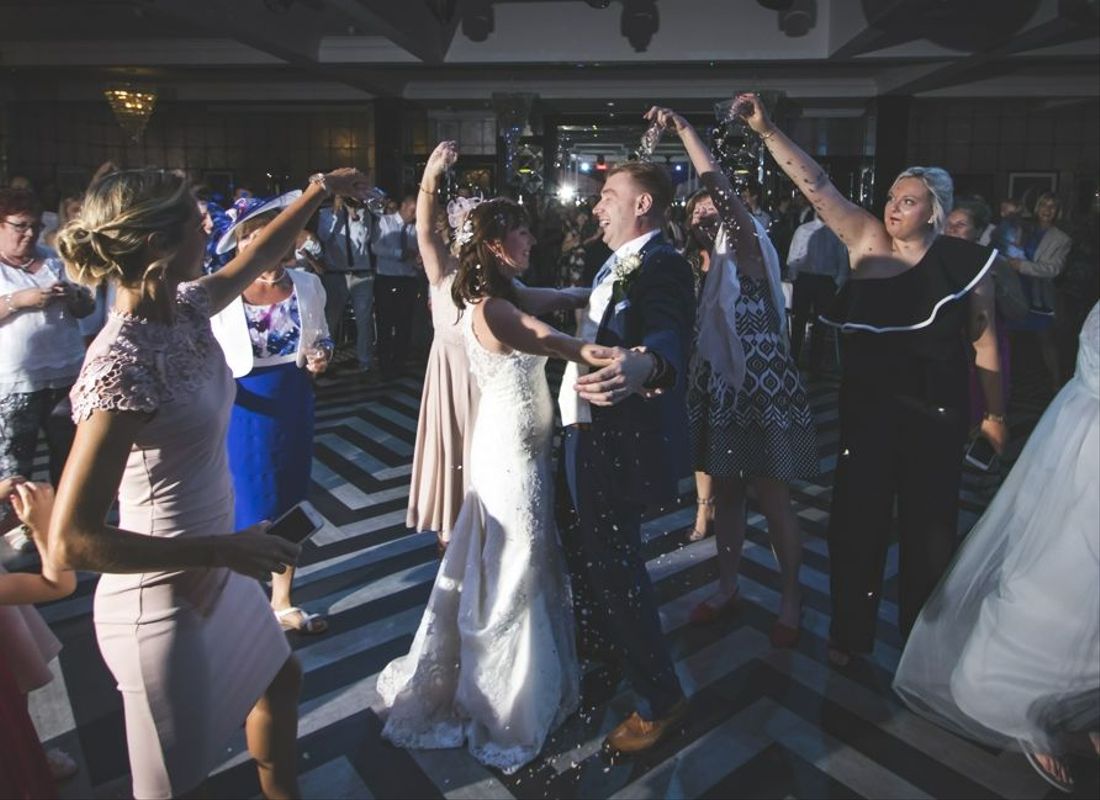 Wedding couple dancing on Gatsby ballroom wedding space dance floor
The Gatsby Ballroom is the perfect venue for wedding breakfasts followed by a full evening of celebrations. With glamorous art-deco decor inspired by The Great Gatsby, this venue will certainly impress your guests and provide ample space for your guests to dance, socialise and celebrate.
Features:
• Private bar    • PA and large screens
• Private balcony    • Entertainment space
Often described as 'the hidden gem' of Old Thorns, the Chapel is an intimate and unique setting for you and your fiancé to say "I do" with up to 150 of your loved ones. A bright and charming room, the Chapel's rich wooden features bring love and warmth to your ceremony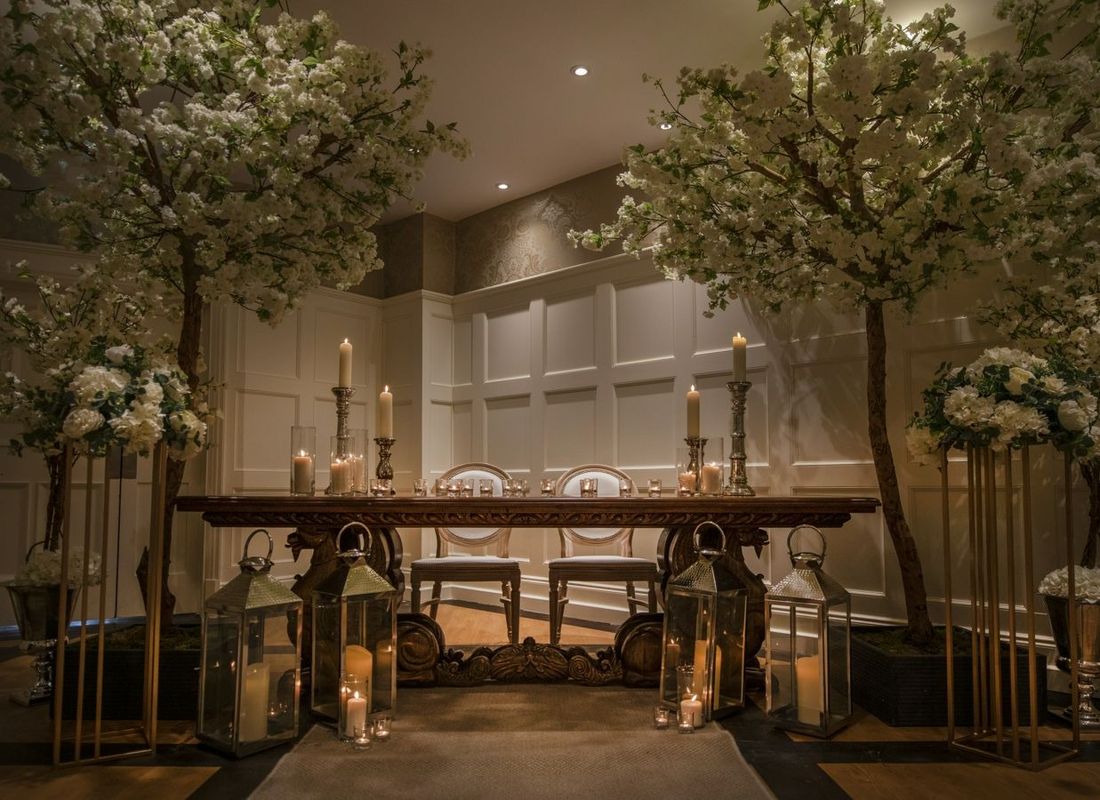 Wedding Chapel room at Old Thorns Hotel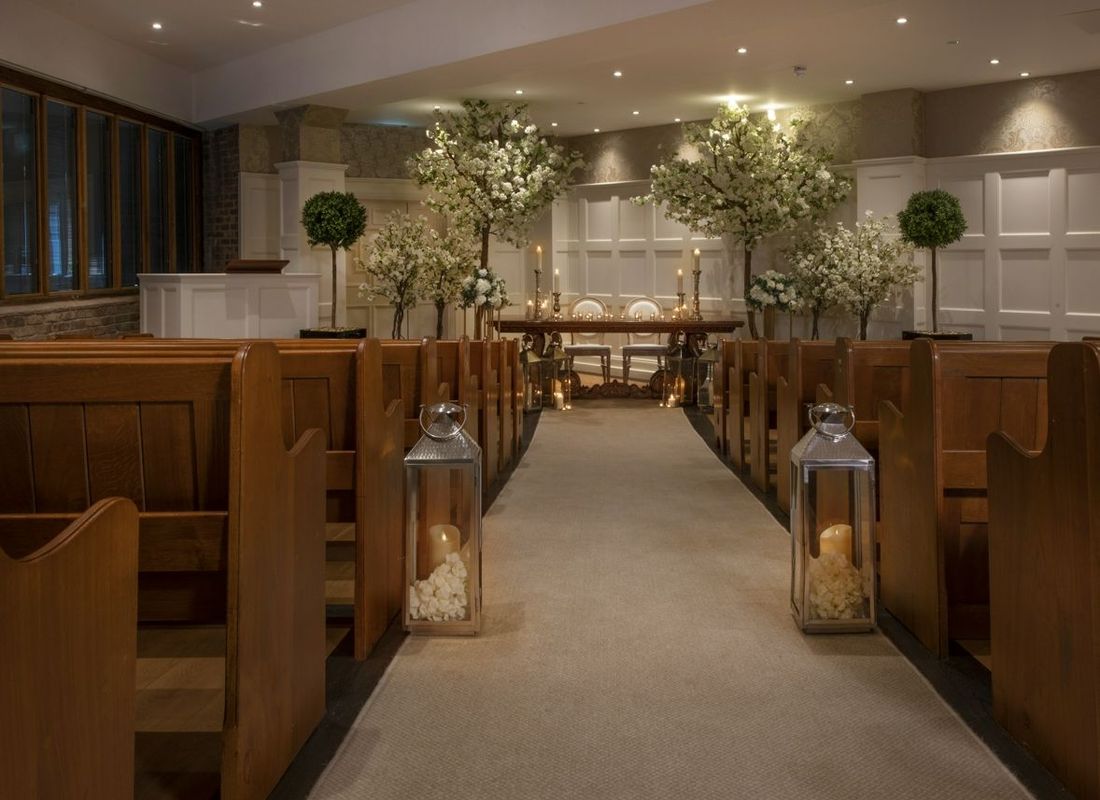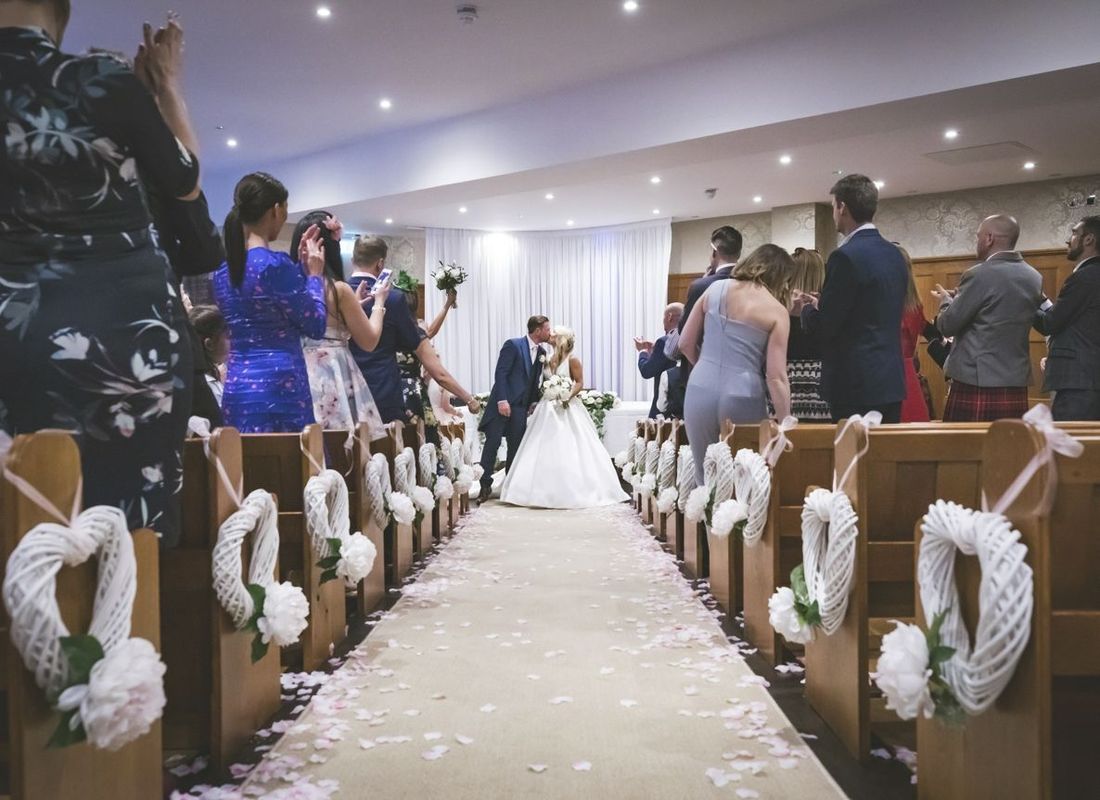 Wedding couple ceremony in a chapel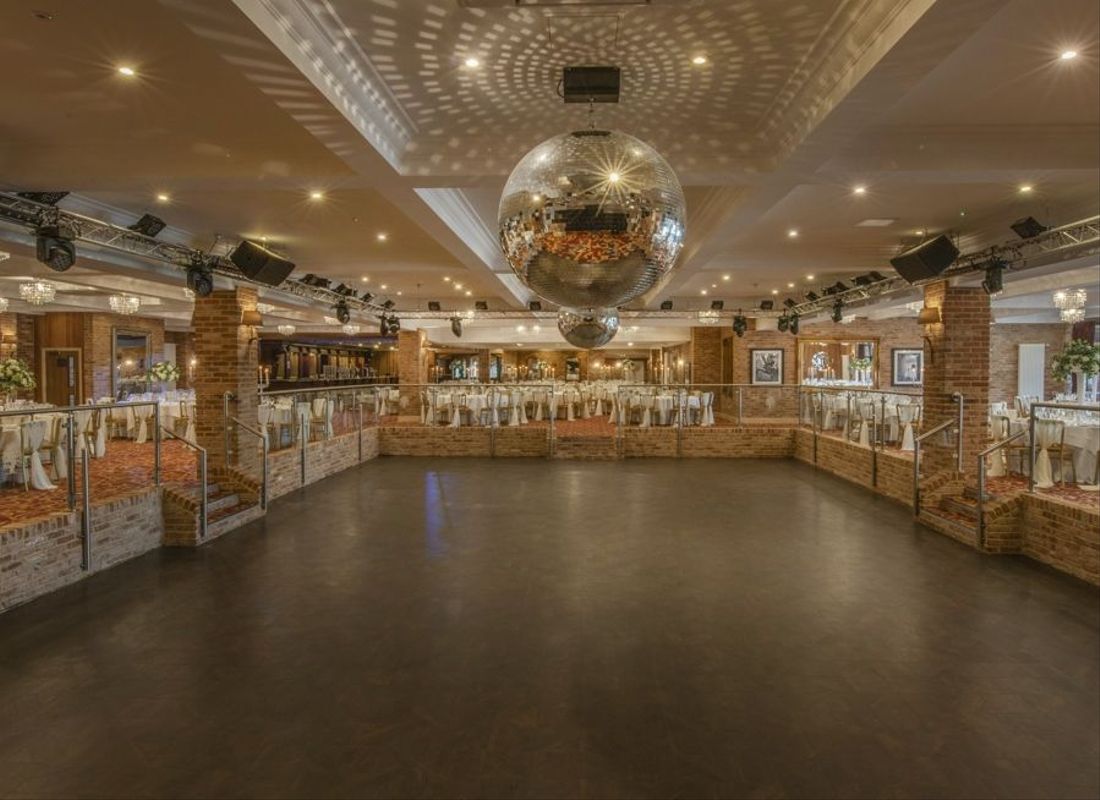 Dance space in Grand Ballroom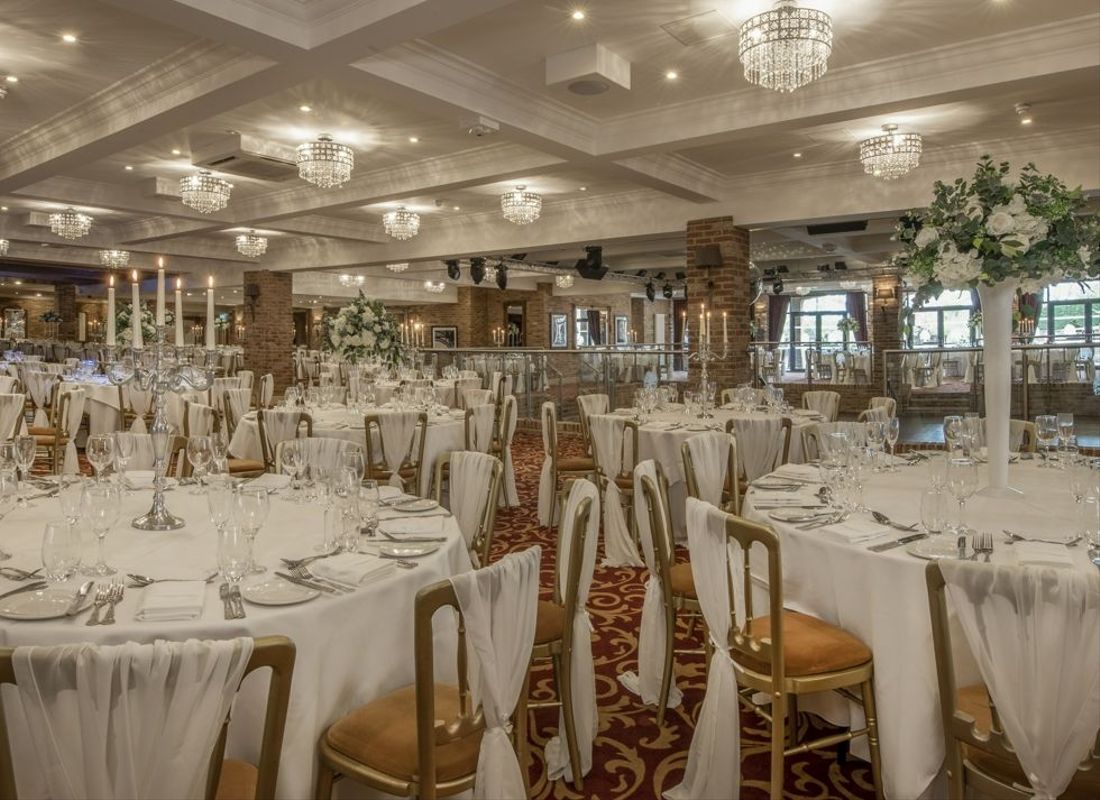 Grand Ballroom wedding setup with tables and chairs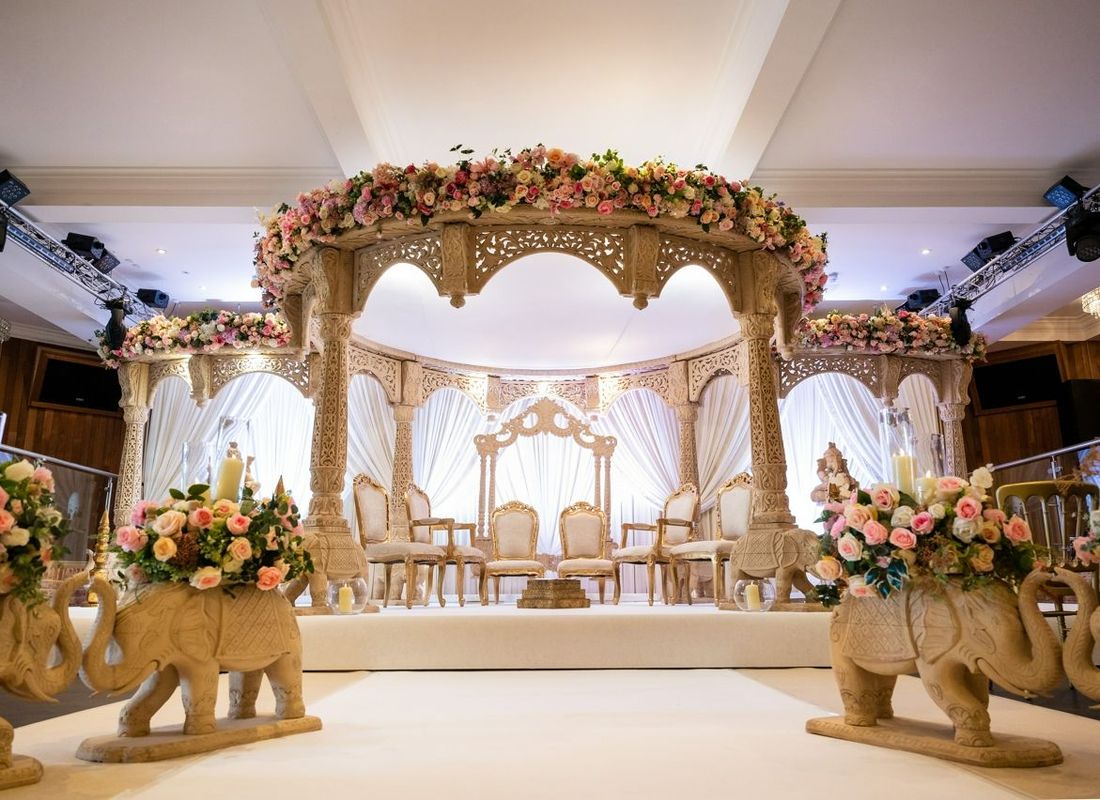 Asian wedding decoration inside The Grand Ballroom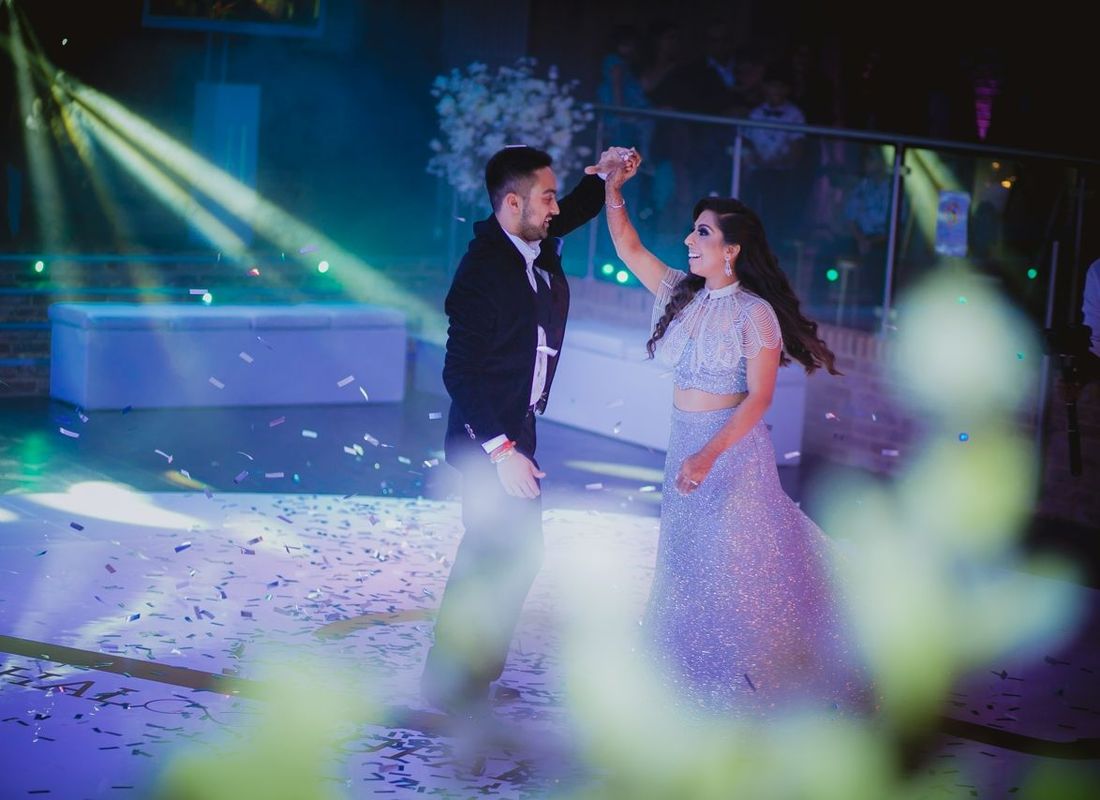 Wedding couple having first dance on dance space in the Grand Ballroom
The Grand Ballroom is the perfect venue to celebrate with all your friends and family. Set in the heart of Old Thorns, the room features a beautiful mahogany bar, large sunken dance floor and central stage with a starlit background – ideal for a band or your own entertainment.
After the "I do's", the glamorous and spacious Atrium Bar offers the perfect space for your drink's reception before your wedding breakfast. Leading onto an outdoor terrace, it is also a favourite spot for group photographs!
Features:
• Private bar    • Outdoor terrace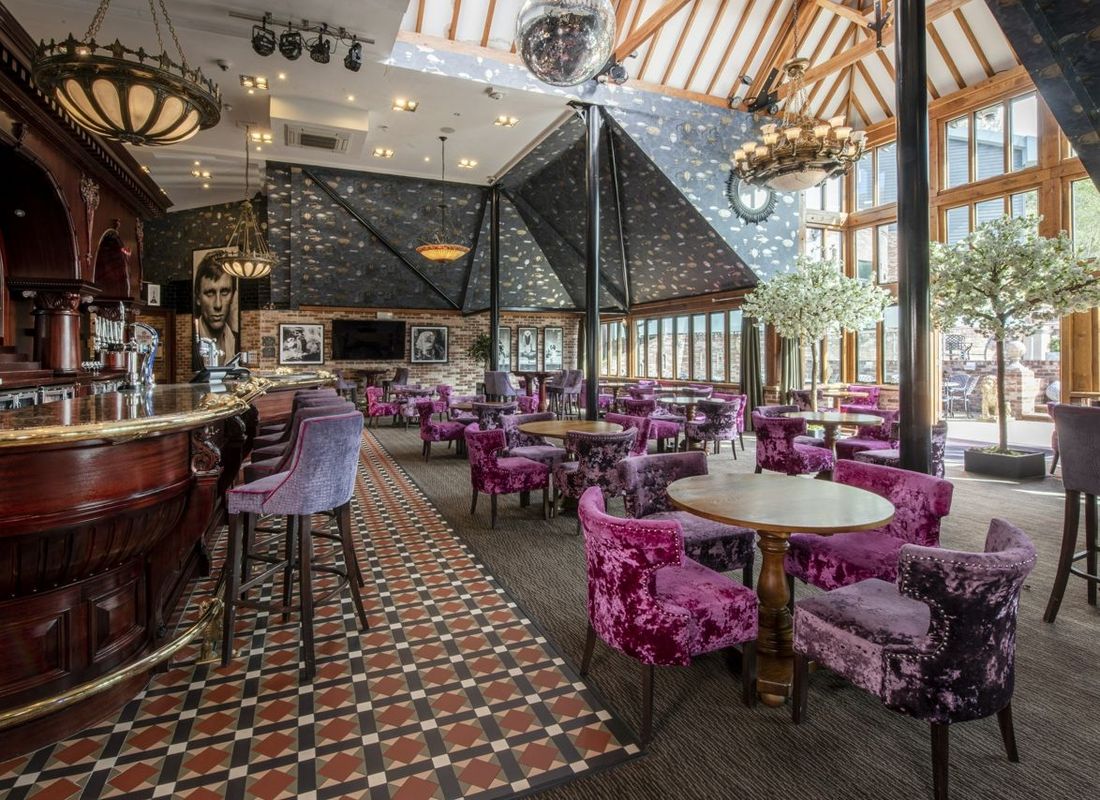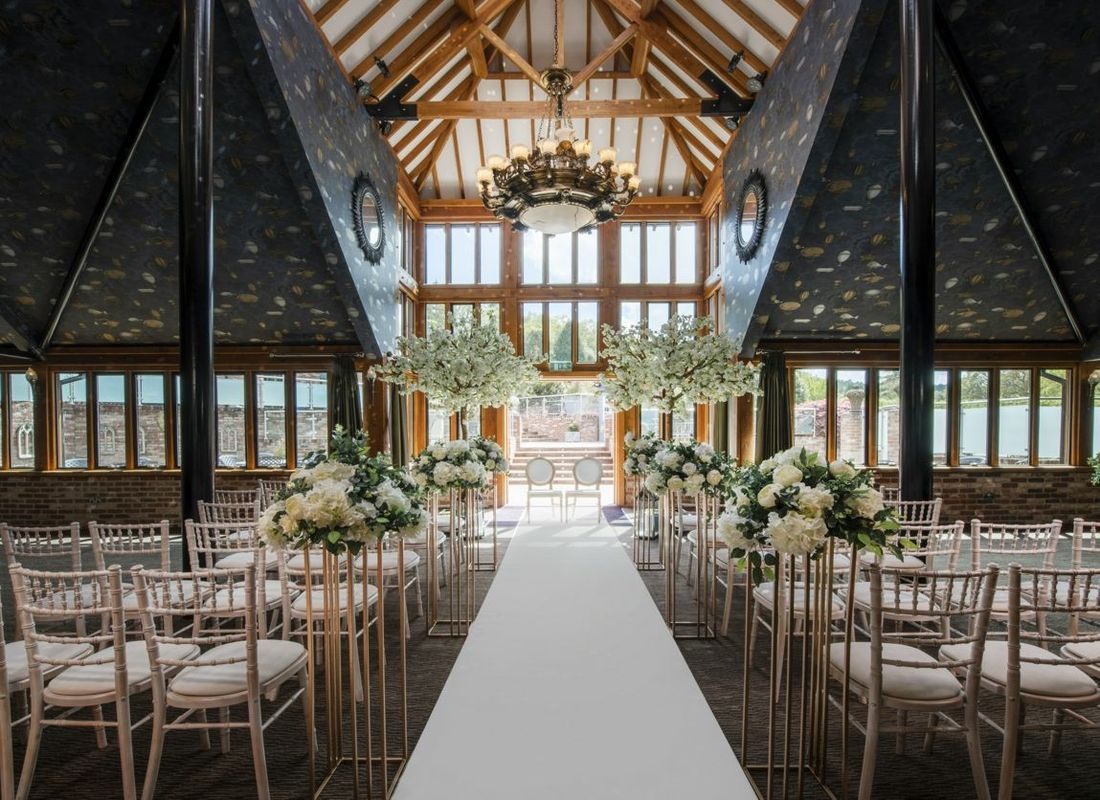 The Atrium Bar setup for a wedding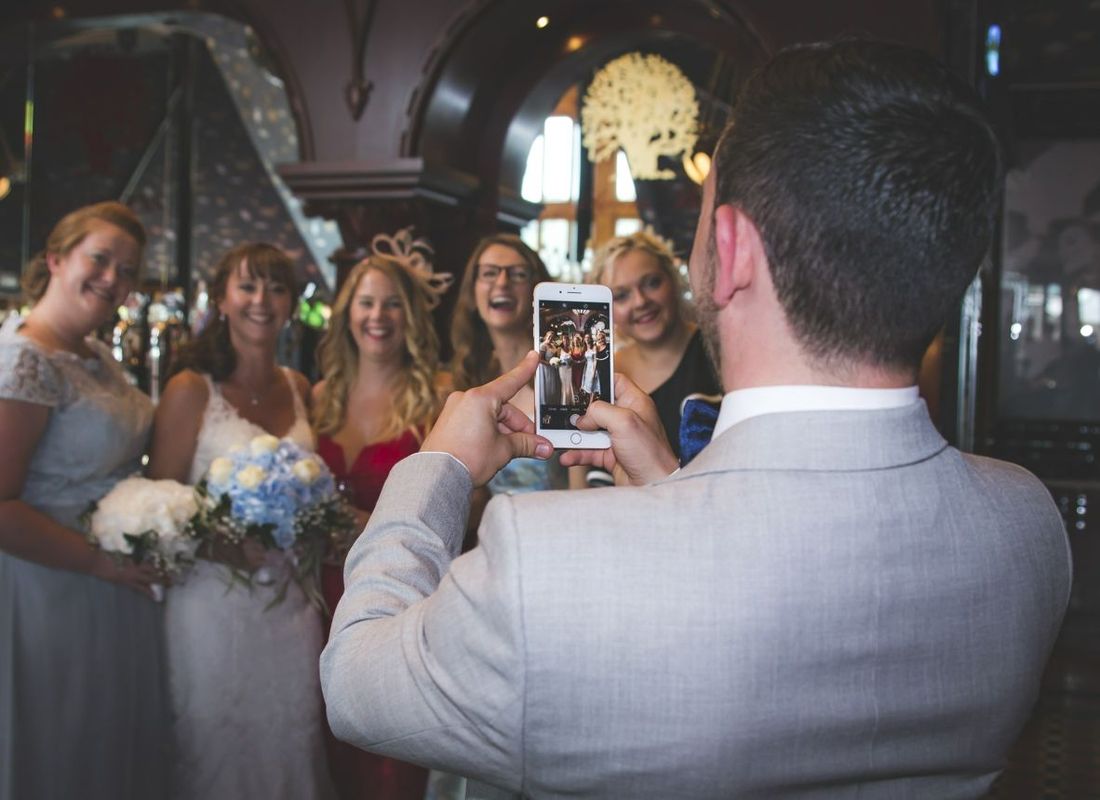 Man taking social media picture for hen party
Our team of talented chefs has developed a delicious and elegant wedding breakfast menu suited to each season using the best produce from the local area.
Enjoy warming winter dishes such as wild mushroom and tarragon tart, roasted lamb rump, and sticky toffee pudding.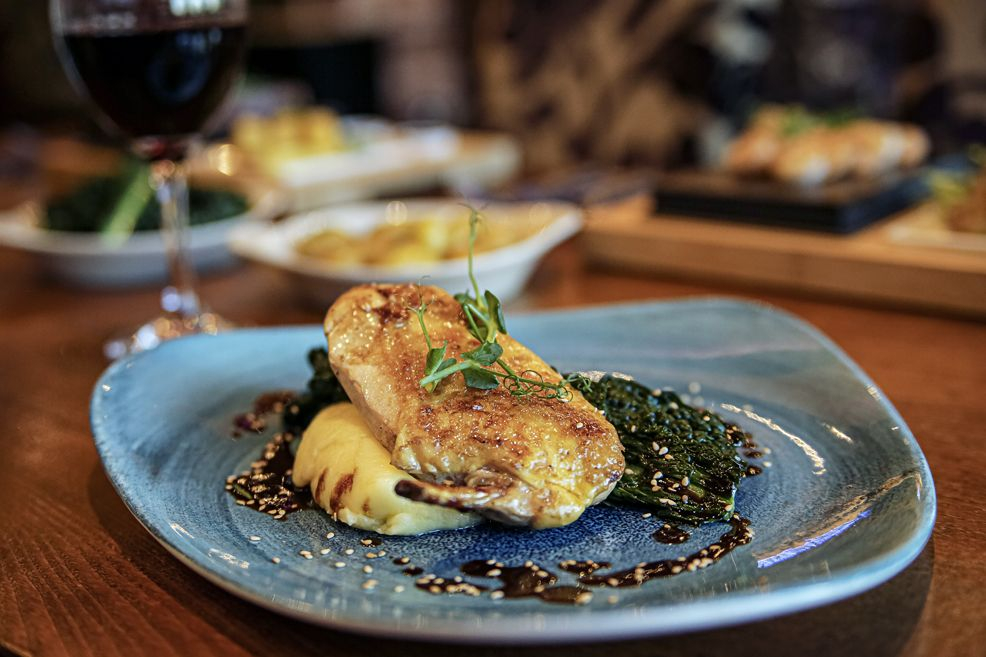 Oliva and Rory, August 2022
"Our wedding at Old Thorns Hotel & Resort was truly amazing. The staff were incredibly helpful and accommodating, the food was exquisite and we had a great time celebrating with our friends and family.
I'm so glad I chose this place as the venue for my special day, it was simply perfect!"
Mia and Thomas, July 2022
"We truly had the most perfect day! We both look back and can't think of anything we'd do differently, the staff on the day were fantastic and couldn't do enough for us! Food was delicious and the DJ was also brilliant the dance floor was full all night! Would recommend Old Thorns to anyone in a heartbeat."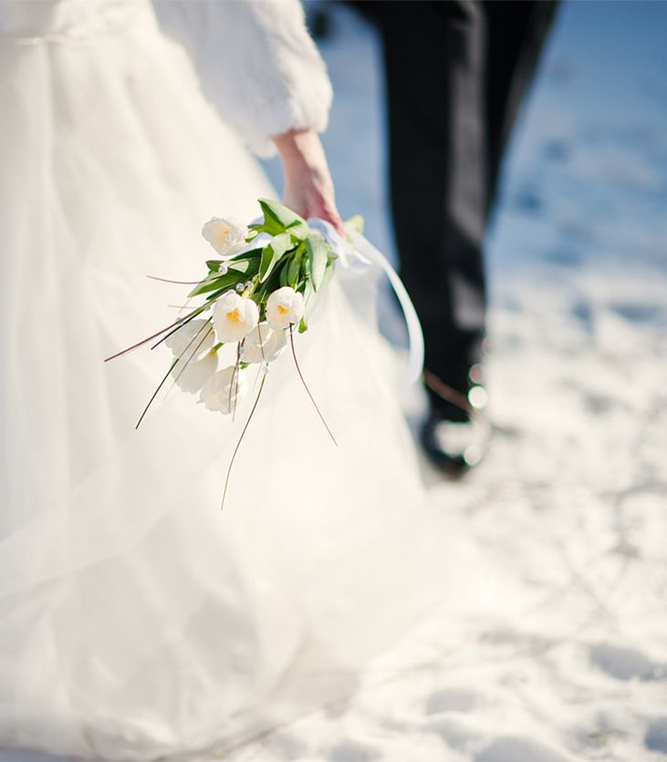 Wedding Packages
Old Thorns is a beautiful venue throughout the year, with each season bringing its own colours and charm. With magical twinkling lights, the winter season is sure to provide a stunning scene for your big day. 
And what's even better, is you can take advantage of the lower season, not only with your venue choice, but with all your suppliers, enabling you to achieve a fantastic value celebration without compromising on service or features.
View Our Packages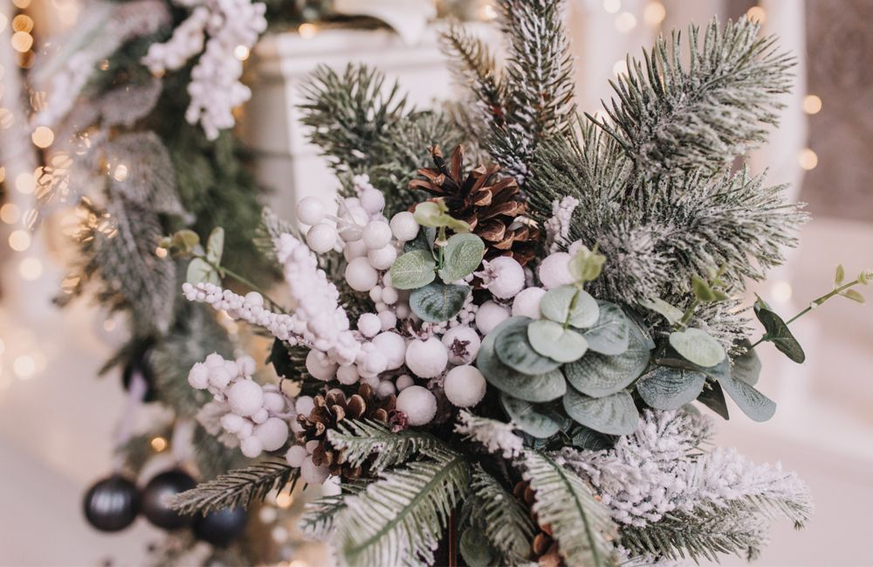 Download Our Brochure
Still need some more information?

To make your big day even more special, why not have a look at our broucher for further information on how to customise your wedding day. You can choose from our list of wedding suppliers, such as entertainment, photographers, florists and more!
Download Our Brochure
We would like to thank the following photographers who have allowed us to use thier photos on our website,
Chris Such.
Explore and discover our wedding venue below to get an idea of the size and scale of options on offer – we'd love to welcome you at Old Thorns to show you our wedding spaces in person!