More time for you
From specialised therapies to relaxing massages (and everything in between) the Old Thorns Spa is perfect for your health and wellness.
Set in beautiful countryside overlooking a pristine golf course our team of experts will ensure you leave relaxed and rejuvenated.
New to the Spa - TEMPLESPA
TEMPLESPA is a British brand with a Mediterranean soul. Their luxurious, results-driven skincare and spa experiences are a tool in the hand to "spa wherever you are" and most importantly to live, breathe and love who you are. They have an extensive menu of face & body treatments for girls and guys and they guarantee you'll leave feeling rested, revived and restored – skin, body and soul.
Spa Products Available to Purchase
We have a wide range of TEMPLESPA, Natural Spa Factory and Spongelle products all available to purchase from the Spa reception.
If you loved a particular product that was used during a treatment, ask your therapist for the details so you can buy it to take away! Our therapists are all trained to offer personalised advice on products that are right for you.
If you're not able to visit to buy direct from us, why not shop the selection of Natural Spa Company products on their website and get your goodies delivered straight to your door?
Escaping from the stresses and strains of everyday life is easy at the fabulous Spa at Old Thorns, a blissful retreat surrounded by glorious Hampshire countryside. There's a pleasing air of serenity about our estate, making our spa perfect for both days off and long weekends away.
Please Note
We do employ male and female therapists, please call Spa reception on +44 (0)1428 738 540 to discuss your requirements.

Please be aware our treatment slots tend to be booked between 6 - 8 weeks in advance, sometimes longer for weekends. However, last-minute appointments may be available, please call our spa team to double-check availability or we may be able to add you to a waiting list.
We have been certified by The Good Spa Guide as a 5 bubble spa!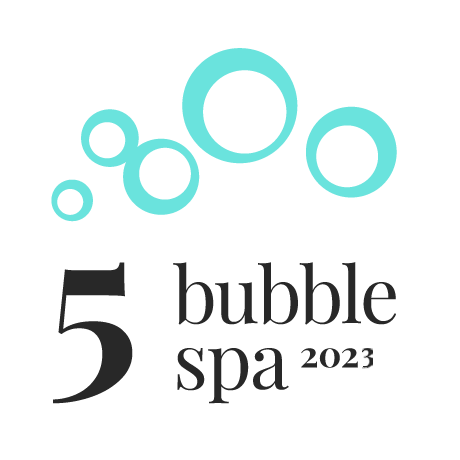 Product & Treatment Options
Guest, November 2022
"The pool area had plenty of loungers and was clean and warm, the spa area with heated beds, hot tub, steam and sauna was great - we particularly loved the foot spa!"