Details
Chris Such has been capturing photography at Old Thorns for well over a decade now, which means many of the changes you've all seen happen here over the years, Chris has been along for the ride. In fact, the photographer even remembers when our Grand Ballroom was a separate single-story building and you had to walk outside to get to it… how times have changed!
It's no secret that Chris can talk for hours about how special weddings at Old Thorns can be. So we've asked him to share with you a few of his favourite moments captured on camera. Chris works with his partner Sarah and in his words, 'form a kick ass duo'. Both are full time professional photographers (although Sarah's passion is portraiture these days, but she started in weddings) and they love nothing more than shooting weddings together in their most bodacious style.
But, before we jump in to the images, an introduction is in order to get to know the man behind the camera and what makes him…click.
"I jumped into the photography trade maaaaaany moons ago in a behind the scenes role doing specialist film developing and hand printing for a bunch of local wedding photographers, during the good ol'days of darkrooms and enlargers!
This taught me the fundamentals of old school skills based around apertures/exposures and hand printing techniques, which would prove oh so useful later on in the digital world of post-production/editing.
Seeing some of the mundane stuff that was being produced back then (not all, as there were some beacons of awesomeness that shone bright above the parapet of mediocrity that inspired my direction) I figured I had the necessary technical minerals to undertake the task and jumped into the wedding photography side of things as a side hustle initially, and in 1999 decided to go full-time with the photography and here I am still doing it!
I've seen a lot of changes in techniques/gear/styles/expectations in my time, but what zens my vibe is the creation of memories for a couple, freezing a moment in time on a special day in their lives, that kind of jazz you know? Something captured now to be looked back upon with delightful memories in the future.
I massively dig shooting weddings at Old Thorns, it's one of our favourite venues to shoot at because of the versatility, setting and of course the place is extremely well run from a technical and guest perspective. The staff are wonderful to work alongside and from a photographer's viewpoint, it's awesome.
I know come rain or shine, day or night, we have a range of backdrops at our disposal to shoot our clients against. I love the quirks of the interior spaces and the stunning settings we can shoot out on the golf course, which boasts some epic scenery and backdrops for our clients wedding photography."
So without further ado, time to get started.
1. "The sun sets over the 18th tee, so Hampshire Suite weddings are perfect for dragging couples away for a few quick portraits. Add in a touch of wind and a veil, and hey-presto! Stuff like this is the result. Sarah is holding the veil to catch the breeze.
Chief Bridesmaid is holding an external light source pointing. Lewis and Becky steal a kiss as the last remnants of sunlight fade below the horizon. Although technically this isn't a sunset shot and we have captured some truly apocalyptic skies in this location, this image scores high and a favourite of mine (one of theirs too!)
I love a Hampshire Suite wedding, with long, warm summer evenings, especially when given free rein to shoot as we please.
Stuff like this is the reward."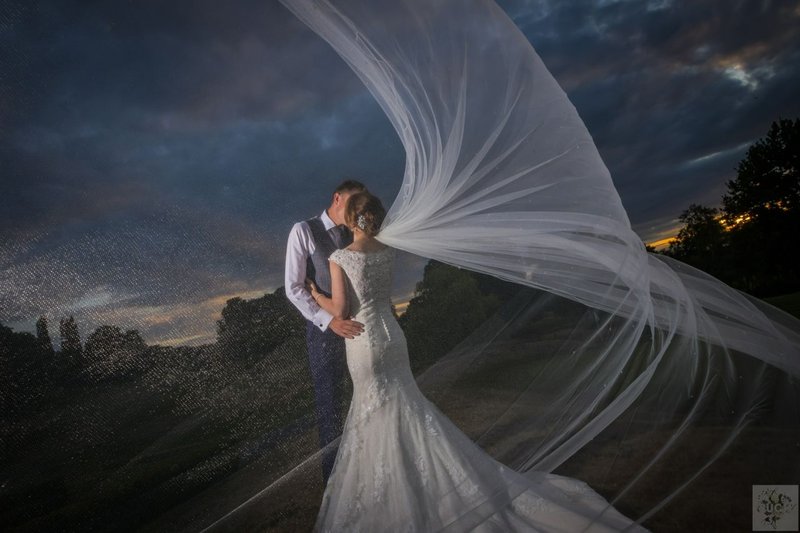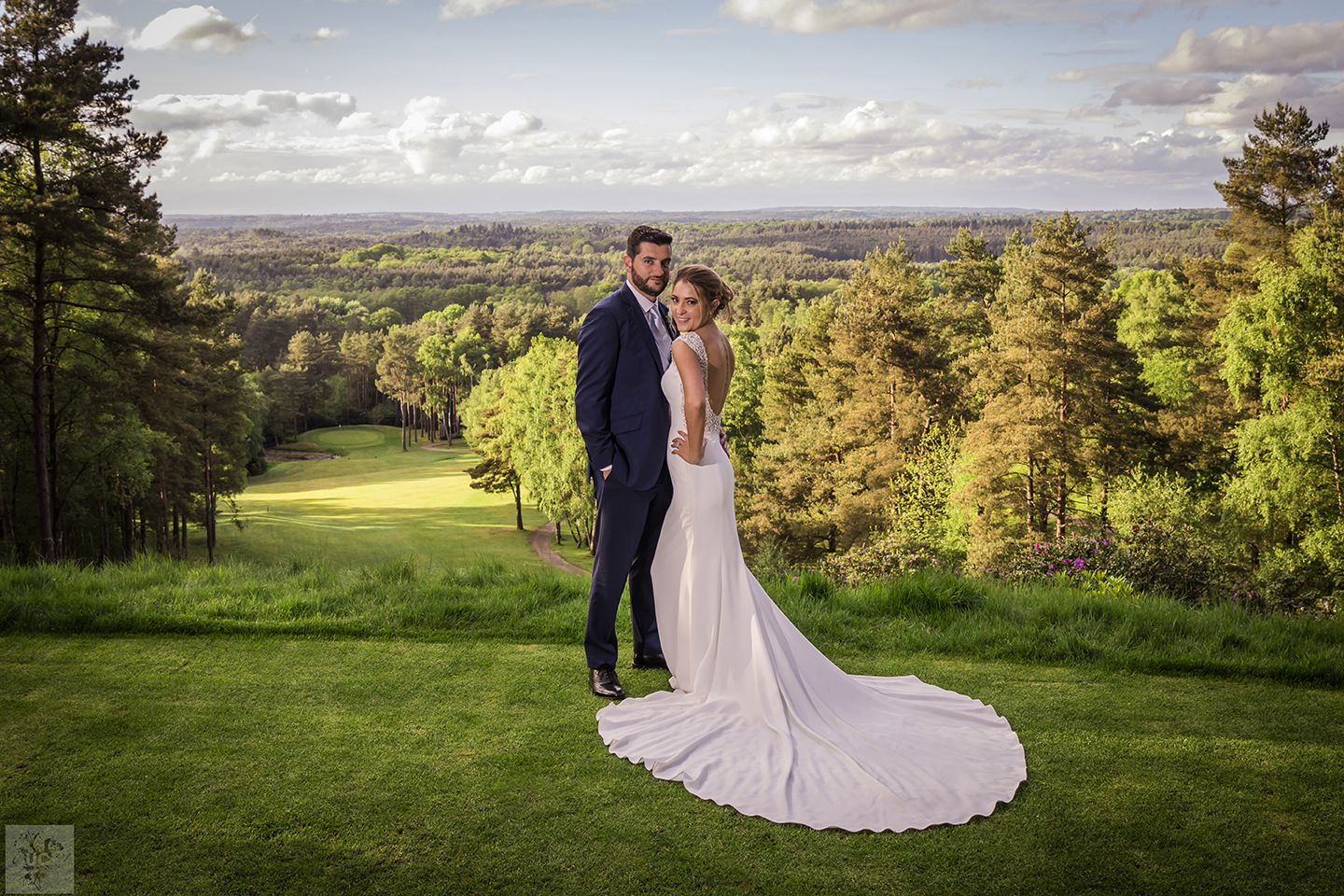 2. "Only golfers and wedding couples see this stunning view from the 5th tee over on the other side of the golf course. Totally worth the golf buggy ride to get away from everyone for a breather and to catch great views like this.
One has to balance the light here on a sunny afternoon as the tee is shaded and those glorious details in the scenery must be kept. Just look at all those tones and colours!  Luigi and Sam looked amazing just chilling, so it was easy to capture this gorgeous image for them. One of the few places I shoot at that looks like it's shot on the golf course!"
3. "Photography is all about capturing moments, freezing a moment in time to look back on in the future and if you can catch emotion in people at the same time, then magic occurs. This amazing emotion shot was another natural capture as the Bride walked down the aisle on her Dad's arm to her awaiting Groom; neither Mark or Emily could contain themselves and they both teared up at the sight of each other.
Wonderful for me as this shot is completely honest, a wonderful moment captured for them. The natural light thrown into the Champagne Bar through the large doors and windows. It's amazing and the fall-off darkens down the guests behind awesomely."
4. "A rainy wedding day at some venues could, from a photographer's perspective, cause issues with regards to capturing great imagery, but not at Old Thorns with interior backdrops and spaces to utilise.
This image was a natural capture. Shot as the Bride and her entourage strutted over from the Alliss Suites under cover of umbrellas pre-ceremony. T'was a dull grey day, so perfect for a black and white conversion (with a hint of added contrast to boost slightly) Olly (the 'Bridesdude') makes this shot in my opinion, being the only dude and the only one looking forward.
A simple yet cool image I reckon…"
5. "This particular image captured Alex and Sarah utilising two aspects of the area; the gorgeous twinkling lights of the Linkway and the exposed beams to create a simple semi-silhouette moment.
This was another 10pm'ish shot to finish off our day with them and a perfect ending to their Collection. 
A time for reflection on a magical day spent with friends, family and loved ones. 
As I say quite often to a couple, "the day may be over, but the journey has just begun."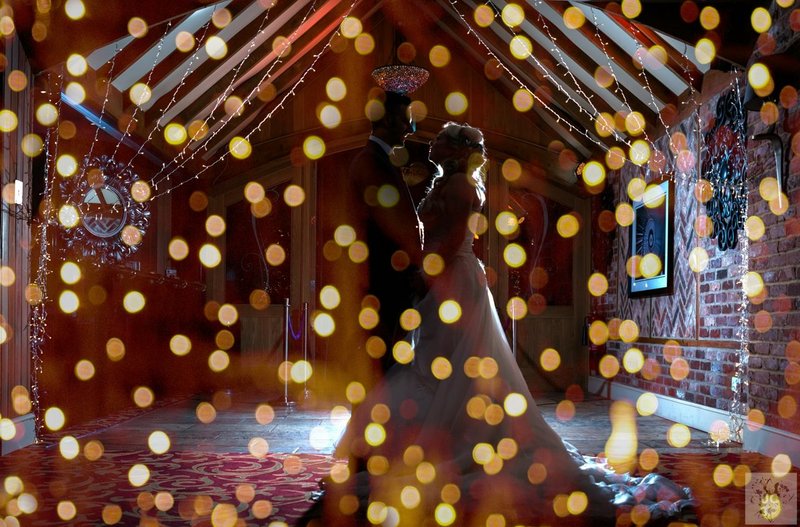 6. "Who says you cannot get great capture at night? I love capturing our couples at different times of the day to help narrate the story we weave for them and this particular image is a stunner. Shot at around 10pm and one of Josh & Saskia's final images of their day. I wanted a shot that captured how they were feeling at that moment. 
14 hours deep into a wedding day is tiring work, for everybody involved.  So a calm moment for them, hidden around a corner away from prying eyes and guests was in order. A simple leaning shot, a moment together, shot from afar so I'm not in their face. Sarah is hidden away off camera, directing a remote light source towards them to create that awesome rim lighting of their profiles and throwing a subtle reflection into the framed famous actor portraits hung in Reception.
Simple shot, simple lighting, stunning effect."
So there we have it. We hope you enjoyed finding out about wedding photography at Old Thorns. If you are reading this and are thinking of having a wedding at Old Thorns and your photos taken by Chris and Sarah, then please get in touch with our weddings team online via the following link – https://www.oldthorns.com/contact-us/ or call them on 01428 738 510.