Details
5 ideas for a lockdown Valentine's Day
It's not long until Valentine's Day, and this year, it's looking increasingly likely we will be wooing our other halves at home during lockdown #3. So after almost a full year of restrictions, how can we make this Valentine's a little bit special?

With our home and away Valentine's ideas, we give you some inspiration of how you can create a romantic evening in the safety of your own home, with a related gift voucher from Old Thorns that you can redeem at any point over the next 12 months. 

So achieve the best of both worlds this February, with a romantic celebration and a special treat to look forward to together once lockdown lifts.
1. Luxury breakfast with the romantic touches
Sometimes the best ideas are the simplest and treating your loved one to a delicious breakfast is the perfect way to start the day off right. Serve in bed, or dress a table with a nice cloth. When it comes to food choice, mini pastries that can be shared is an easy winner, but just about anything goes - omelettes, waffles and mashed avocado with eggs on toast are all good options. Or how about using a heart shaped cookie cutter to make some romantic pancakes. Top with some fresh raspberries, strawberries or fresh herbs to give it that luxury feel.
Your voucher for later… Romantic getaway for 2.
It's wonderful treating your other half, but wouldn't it be great if you could both be treated and there wasn't any washing up!! Check out our romantic getaway for a relaxing break to look forward to together.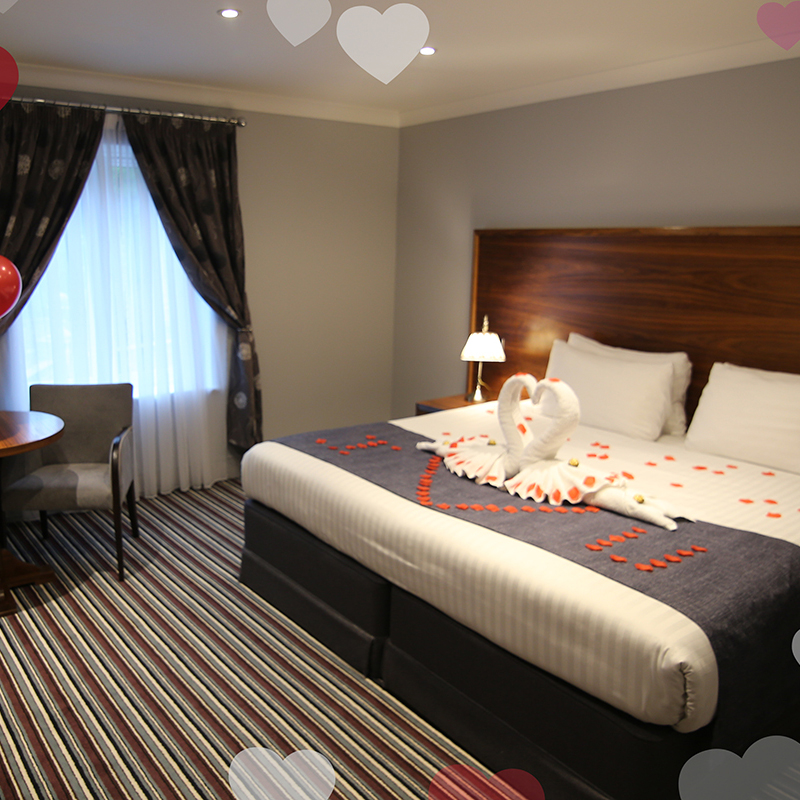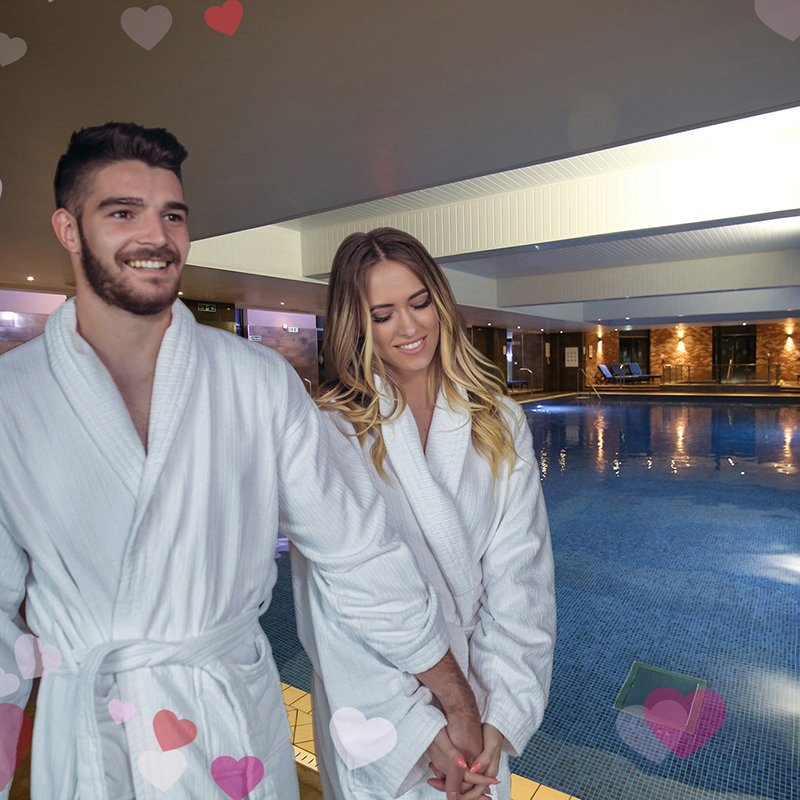 Who doesn't love to be pampered? And with spas currently closed, creating your own spa at home could be a great way to treat your loved one this Valentines. There are lots of spa products, moisturisers, nail polishes and face masks that can be purchased from local supermarkets or online, but if you want to recreate that resort spa feel then take a look at Germaine de Capuccini https://germaine-de-capuccini.co.uk/ which is the product range that is used for Old Thorns spa treatments.
Tip: To recreate massages we recommend a nourishing moisturiser and to make it extra special add a few drops of rose-hip oil to the moisturiser to regenerate, nourish and firm the skin.
Your voucher for later… Spa Day for 2
Let us pamper you this time. Enjoy a relaxing spa day with a treatment each, afternoon tea and access to the pool, wellness facilities and spa terrace.
3. Romantic lockdown meal
Depending on your cooking ability, there are a couple of options here. If you are confident in the kitchen then now is the chance to show off your culinary skills to your other half. But don't sweat it - this is meant to be a day for you both to enjoy, so there is absolutely no shame in calling a takeaway. And that doesn't mean you can't make the experience more romantic. Create a luxurious dining setting by dressing your table with a tablecloth, candles and polished cutlery. Rather than eating your takeaway from the box in front of the TV, serve restaurant style on your finest plates.
And to top it off, our Executive Head Chef, Alex, has shared his favourite Chocolate brownie recipe for a tasty dessert treat.
Your voucher for later… Romantic 3 course meal.
Rather than follow Alex's recipe, this time, let him and his team cook the entire meal for you! Enjoy a delicious 3 course meal without lifting a finger!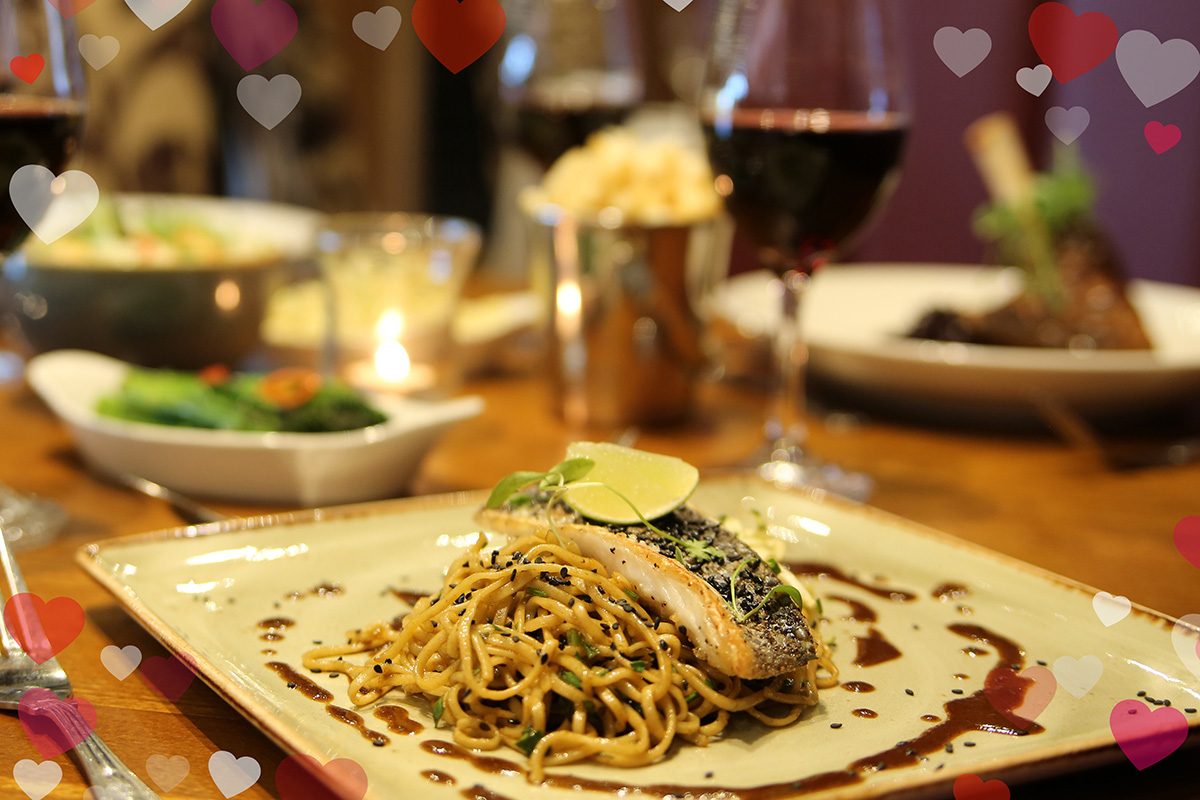 Ingredients 
225g unsalted butter, 450g caster sugar, 140g dark chocolate broken into pieces, 5 free-range medium eggs, 110g plain flour, 55g cocoa powder 
Method 
Heat the oven to 190c/170c fan/Gas 5. Line 20x30cm baking tin with baking paper

Gently melt the butter and sugar together in a large pan, once melted, take off the heat and add the chocolate, stir until melted 

Beat in the eggs, then stir in the flour and cocoa powder 

Pour the batter into the tin and bake for 30-35 minutes or until the top is just firm but still a gentle wobble in the middle 

Remove from the oven and leave to cool in the tin

Cut into squares and reheat when required and serve with chocolate sauce(method below) or clotted cream ice or both if you wish

Replace the plain flour with the same amount of gluten free flour if required for dietary needs.
And for the chocolate sauce:
Ingredients 
200g 70% good quality dark chocolate, 175ml milk, 2 tbsp. Double cream, 30g caster sugar, 30g chilled butter cubed
Method 
Over a pan of simmering water, put the chocolate in a heatproof bowl over the water, making sure the bowl doesn't touch the water, stir the chocolate until melted 

In a separate pan bring the milk, cream and sugar to the boil, whisking constantly 

Pour the boiling cream mixture over the chocolate and whisk until the mix is smooth and well combined 

Return the chocolate and cream mixture to a pan and bring to a gentle simmer, allow to simmer for a few seconds and then bring off the heat, whisk in the butter a cube at a time whisking constantly until the sauce is smooth and glossy 

Serve as required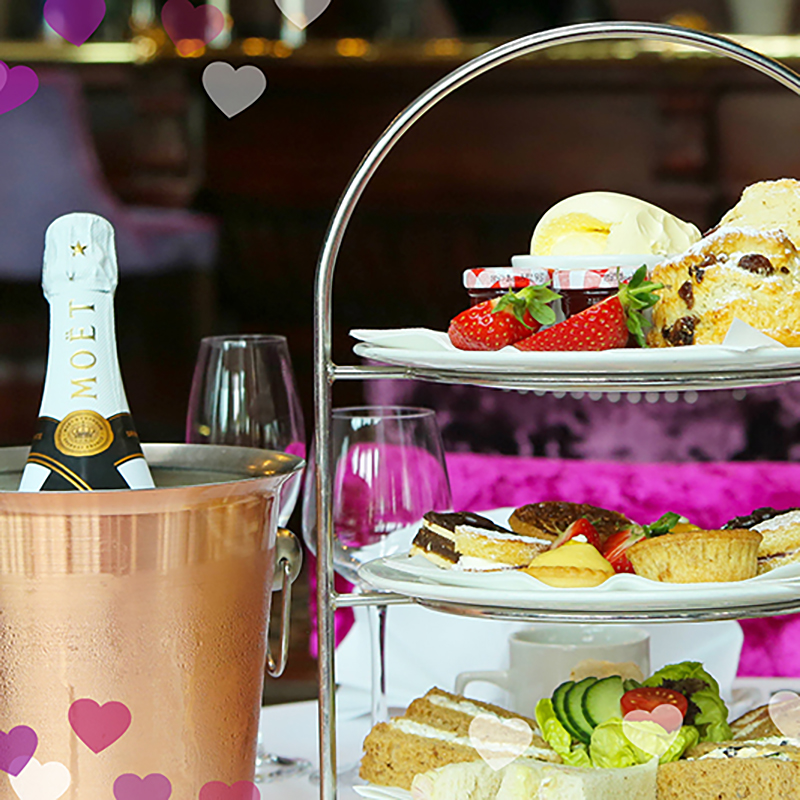 It's February in the UK - let's face it… a romantic picnic in the great outdoors was never on the cards for Valentines, lockdown or not!
But that doesn't matter - find a nice blanket, clear the furniture in your room to one side, and enjoy your favourite picnic treats and a glass of bubbly from the comfort of your living room. To make it more romantic, draw the curtains and light some candles. You could also scatter some rose petals and decorate with heart shaped balloons.
Your voucher for later… Champagne Afternoon Tea
A favourite at Old Thorns - what's not to like about delicious finger sandwiches, freshly cooked scones, homemade jam and sweet treats. Served with Champagne for good measure!
5. Create your own cocktail experience
Meet James. Usually you'd find James conjuring some magnificent cocktails in our Atrium Champagne Bar. But this year, he's put together a romantic cocktail that you can create at home. 
This cocktail is best served in a Champagne Flute.

Luscious Crush
Raspberry Vodka
Prosecco
Strawberry Syrup
Freshly cut strawberries/raspberries to garnish
Add a shot of Raspberry Vodka to the glass with a dash of Strawberry Syrup. Top with Prosecco and garnish with raspberries or freshly cut strawberries.
Your voucher for later… Cocktails for 2 in our Atrium Champagne Bar.
It's wonderful treating your other half, but wouldn't it be great if you could both be treated and there wasn't any washing up!! Check out our romantic getaway for a relaxing break to look forward to together.